18th to 20th November 2022.
Join us for a restorative weekend including yoga, forest bathing and practical conservation tasks.
About this event
This weekend combines the restorative effect of yoga and forest bathing with the satisfaction of mindful practical conservation tasks at a unique woodland retreat centre near Salisbury. We will share a detailed schedule nearer the time; likely to include:
– Yoga and/or meditation class x3
– Forest bathing session x1
– Practical conservation task x2
On Saturday evening we'll have a campfire, with the opportunity to sing songs, tell stories or play games! Feel free to bring a song, story or game to share.
Hazel Hill Wood is a secluded 70-acre conservation woodland and retreat centre with basic indoor accommodation in off-grid eco-buildings with hot showers. The event starts at 6pm on Friday 18th and finishes at 3pm on Sunday 20th November. Ticket prices include all meals.
Upon booking, we will send you a participant information form to complete, which includes emergency contact details and the opportunity to tell us about any relevant medical or mobility conditions and other additional needs, so we can plan accordingly.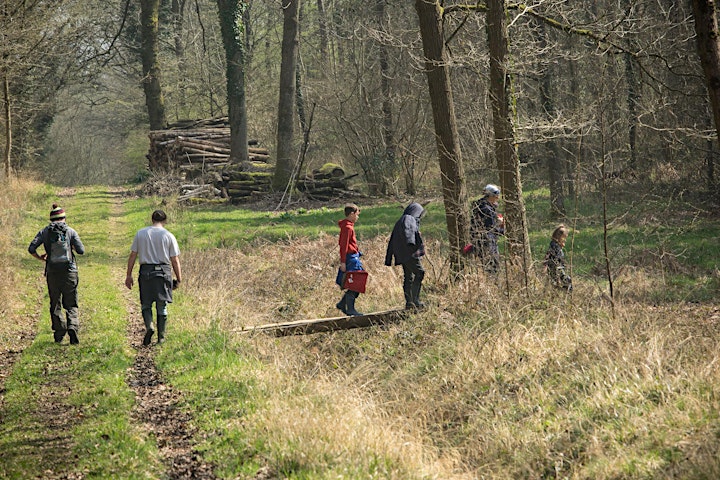 Meet your facilitators
Charley Miller "I started working for Hazel Hill Trust in 2018, with the focus of managing the wood for wildlife and people. I love trying new things – like running this Nature and Wellbeing Retreat with Janine and Al, who I think will be the perfect co-facilitators! Some of my favourite things at the wood are white admiral butterflies, sitting quietly at the pond, and creating firewood with volunteers."
Janine White "I'm a yoga instructor and coach supporting people of all ages and diverse backgrounds through transition and transformation. I completed my 200-hour yoga teacher training in 2013 and have taught with charities, schools, studios and universities in the UK and the US. I am passionate about using the tools of yoga practice and philosophy to support wellbeing in a variety of contexts, especially in the woods!"
Alex Rose "I am, ultimately, a minor detail in the eternal cosmic mind. In this incarnation though, I live at the confluence of five rivers in the city of Salisbury, Wiltshire, and roam the surrounding lands as Ranger of the Stonehenge and Avebury World Heritage Site. I have mastered the art of having too many hobbies, but always have space for more interests and more friends. Big love!"
Tickets
– Single occupancy room £365 (6 tickets available)
– Shared room £295 (8 tickets available)
– Concession shared room £195* (7 tickets available)
*based on your honesty about your ability to pay.
Joining instructions
Arrival and departure
Please arrive at Hazel Hill Wood on Friday 18th November from 6pm. We will show you to your room so you can set up camp. We plan to serve dinner around 7pm but will make sure to save some for you if you're arriving later. Once everyone has arrived on Friday evening, we'll go through the plan for the weekend.
The event closes at 3pm on Sunday 20th November.
Food – all food, including meals and snacks, will be provided and will be vegetarian (mostly vegan). If you have any dietary requirements other than vegetarian or vegan, please let us know by email. If you would like to bring any snacks yourself, feel free to do so.
Drinks – we'll provide hot drinks (tea, coffee, herbal) and water.
Alcohol – we won't be providing any alcohol but if you would like to bring a bottle of wine or a couple of beers to enjoy in the evenings please do.
What to bring
This kit list is designed as a guide to help keep you warm, comfortable and safe. More information on the buildings can be found here on our website – you will be staying in the Oak House, Hideaway or Long House.
A sheet for covering a mattress
A sleeping bag or quilt/duvet – whatever you prefer given the season/temperature
A pillow and pillow case
Slippers or warm socks for wearing in the buildings as we ask for all other footwear to be removed at the door
Comfortable, warm clothing that you don't mind getting dirty during conservation tasks. Long trousers and long-sleeved tops are advisable.
Spare dry clothes for indoors/yoga
Waterproof coat (and trousers if you have them)
Suitable footwear for outdoor walking: waterproof walking boots/work boots/wellies. We have some spare wellies at the wood.
A yoga mat if you have one – we will have a few to lend so let us know if you need one
Toiletries – please note that our grey water goes through a reedbed system, so natural and biodegradable products are preferred
A towel
Insect repellent (suitable for ticks)
A portable torch
A water bottle
Ticks are present in the wood – please read NHS tick and Lyme disease guidance.
Using mobile phones, and emergency contact
Please note that we're off-grid, so there is no mains electricity at Hazel Hill Wood and you won't be able to charge phones (or use other electrical appliances). Please therefore bring your own battery mobile chargers as necessary. There is patchy mobile phone reception at the wood, some providers get limited signal. We recommend you view this as an opportunity to immerse yourselves in nature and try a digital detox! If you do need to be contacted, or to make an external call, we have an emergency mobile phone at the wood – 07487 326370.
Getting here
We encourage sustainable travel to the wood, and will share a spreadsheet nearer the time to help coordinate co-cycling and car sharing.
Options include:
– Cycling from Salisbury (7 miles) or Dean (Wilts) train station (3 miles).
– Car/taxi sharing. Classic Cabs on 01722 710111 should charge a fixed rate of £20 (£25 on a Sunday) from Salisbury. Others may charge more. It's advisable to book in advance.
– Bus from Salisbury – number 37.
FAQs
Can I bring my children?
This event is for adults only. We may run a family event in future – please let us know if this is of interest.
Can I bring my pet?
Sorry, no pets.
Can I share room with my friend who has booked separately?
Definitely, please email charley@hazelhill.org.uk with your names.
How many people will I share a room with?
As standard, people who book shared room tickets will share with one other person. Most rooms have 2 beds; there is one room with 3 beds and one room with 4 beds – so if you're keen to share with more people please let us know – email charley@hazelhill.org.uk
Anything else?
If this hasn't answered all of your questions, please contact Charley on charley@hazelhill.org.uk or 07519 464023. Otherwise, we look forward to meeting/seeing you!