Support our charitable work by booking a short woodland break with family and friends. Available at selected times of the year and last minute stays, for 2 nights from Fridays or 3 nights from Thursdays. Please contact bookings@hazelhill.org.uk or call 07399 482319 to check availability.
2023 Prices: The Forest Ark – £250/night (sleeps up to 6). The Oak House – £450/night (sleeps up to 12). Please note, these prices are for family and friends bookings only. If you are running an event see our group bookings page.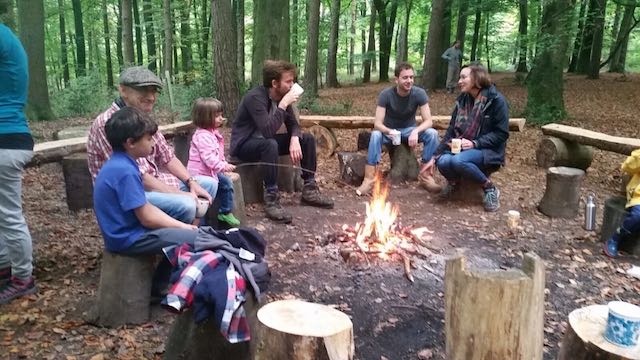 "It's hard to over sell this listing. Because it's completely unbelievably stunning. 'Off grid' living doesn't sound luxurious – but I assure you the ark is the vision of beauty – with wooden floors and fixtures; a beautiful veranda – comfy beds and compost toilets that are … normal toilets but just with sawdust! ( I've experienced festival compost loos and these are a lot more pleasant) The ark is in a beautiful, unbelievable setting. A stunning private woodland. With pond. And deer. And rabbits. And fire circles. And flowers. And streams. We went to escape London after several months lockdown. It did not disappoint. Fires every night. Our two boys loved the freedom of the wood. We also did a forest school session ( extra) with one of the leaders and would thoroughly recommend. This is a very special place. If you get the chance to go – take it." Lotte, April 2021.
"This wood is a special place of stillness where you can reconnect with nature, yourself and your family without the distractions of the internet and tech. We were lucky with the weather and were able to eat outside and cook on the campfire. Our kids (teenager and pre-teen) loved the watching the myriad bird species that came to eat at the bird feeders hanging right outside the big windows. The cabin itself is a beautiful space to be in, although the first night was freezing (in April) once we got the burners going to capacity. After that, it was fine!" Sheena, April 2021.
"Our second visit to this magical place was just as good as the first… But with added bluebells!!! This is the perfect getaway from our busy lifestyles. The lodge has everything you need including a well stocked kitchen, spacious lounge area with the heat of the log burner to keep you cosy, and comfy beds. I would definitely recommend staying here, either to stay in the lodge and woods or as a base to visit Salisbury and the surrounding area. You will be warmly welcomed and then left to your own devices. We will be coming again!" Paul, May 2021.
The Oak House & Forest Ark
The Oak House and Forest Ark are quirky off-grid eco lodges in the heart of Hazel Hill Wood, a private woodland and nature sanctuary looked after by the charity, Hazel Hill Trust. Basic, beautifully-crafted, rustic buildings made from natural materials provide a simple but comfortable style of accommodation, which is ideal for a quiet forest retreat. Switch off from the modern world and experience the off-grid lifestyle. The woodland is a wonderful space to wander around and for kids to play and explore.
The Oak House (pictured left) sleeps 12, in a mixture of shared sleeping arrangements, including bunk beds, across 4 bedrooms. The Forest Ark (pictured below) sleeps 6, across two double bedrooms and a double sofa bed in the living room.
Our buildings are off-grid. This means that understanding how you use water, heat, electricity and generate waste is part of having a good stay. We brief you on how to use the off-grid systems when you arrive in a 30 minute briefing at check-in. We need to agree a check-in time with you in advance to make sure one of our team is on-site to do this briefing for you. Check-in is between 2-4pm only.
Power – the buildings have a limited amount of electricity provided by solar panels and a back-up generator. Please come prepared to use minimal electricity during your stay. The more power you use, the more likely the generator will run. There are no plug sockets in the Oak House.
Heating and hot water – heat and hot water come from wood burning stoves that you need to light and stoke. Logs are provided.
Water – in the Oak House is mains drinking water. The water that comes through the taps in the Forest Ark is rainwater, collected and filtered through a harvesting system. This water looks discoloured – it's suitable for washing but not drinking and cooking! We provide separate drinking water in containers. All waste water at the wood drains into a reed bed so we ask you to bring eco-friendly shampoo, shower gel etc. Washing up liquid is provided.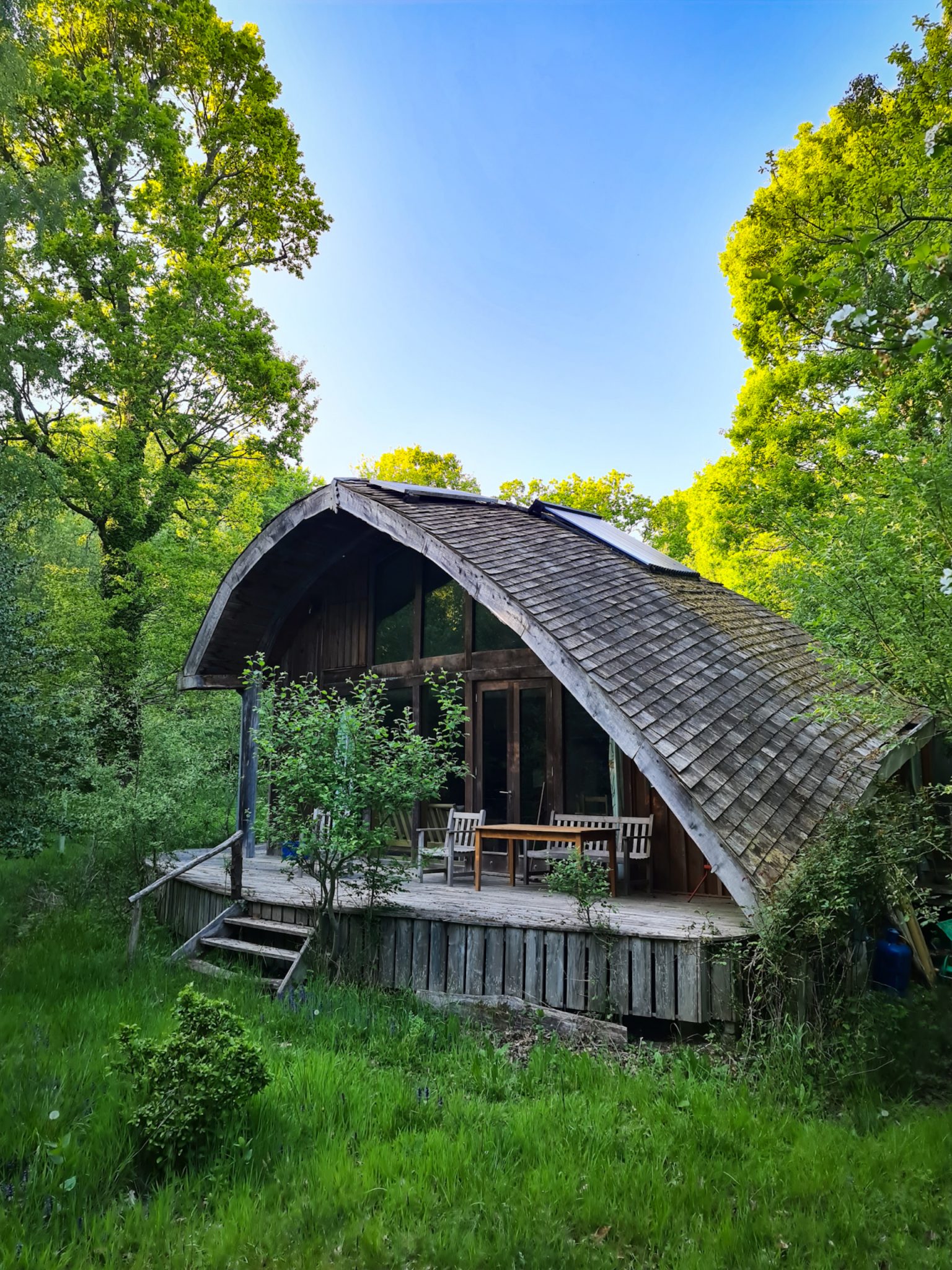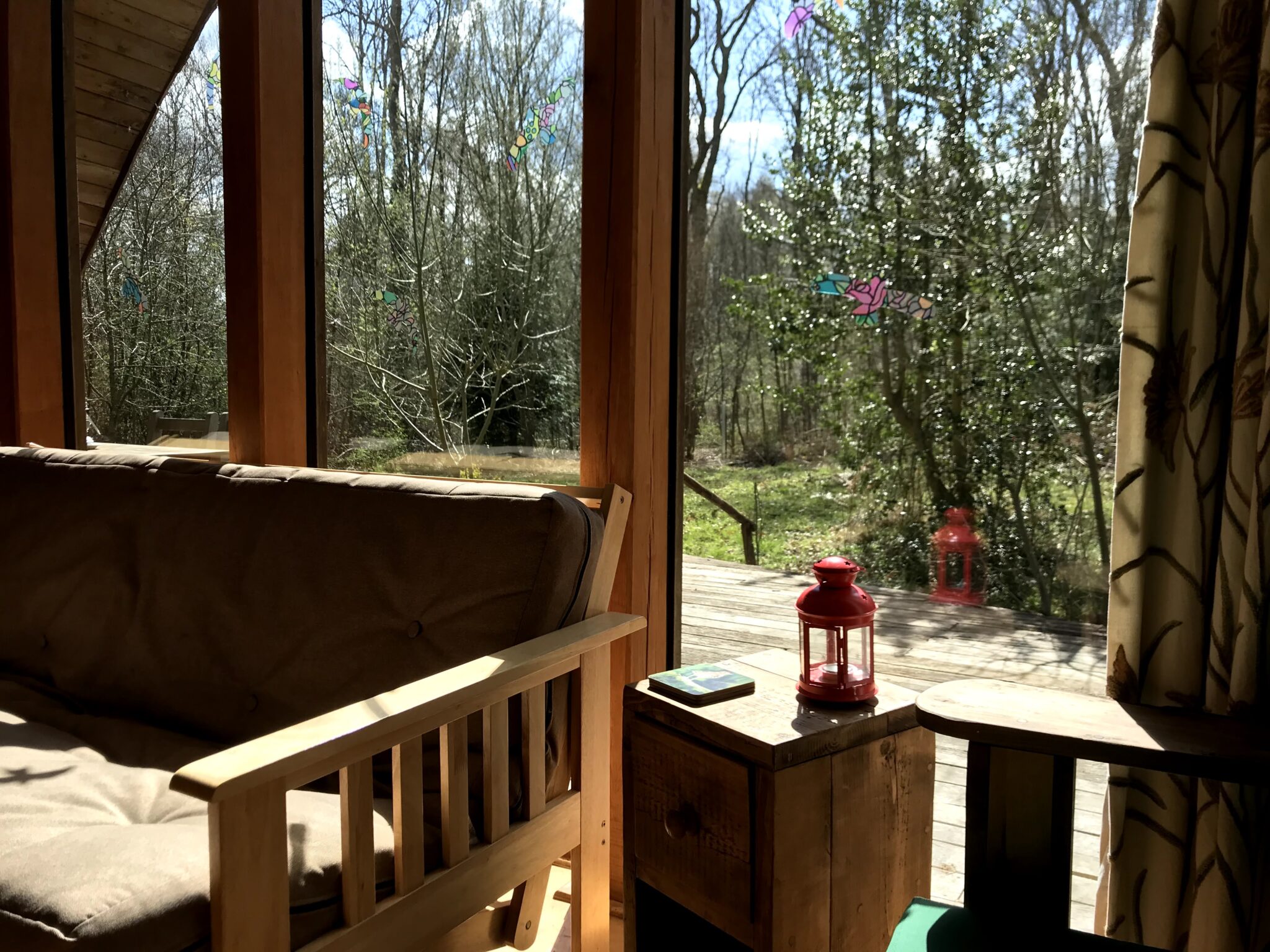 Bedding – we do not provide bedding or towels.
Cooking facilities – gas hobs in both buildings and an oven in the Oak House. You can use the oven in the Esse stove in the Ark if you have it lit. You can also cook on the campfire.
Toilets and showers – indoor showers and composting loos. There are also two outdoor composting loos.
Babies and toddlers – we're not really set up for little ones, the buildings aren't baby-proof and we don't have any specific equipment, high chairs, cots, stair gates, fire guards etc. There are the usual outdoor risks associated with woodlands.
Guest access – free parking on site. When you arrive please follow the sign for the car park.
Other things to note – as a nature reserve we do not allow pets, wedding, or any large parties or celebrations, sorry.
Please download and share the following document to prepare for your overnight stay: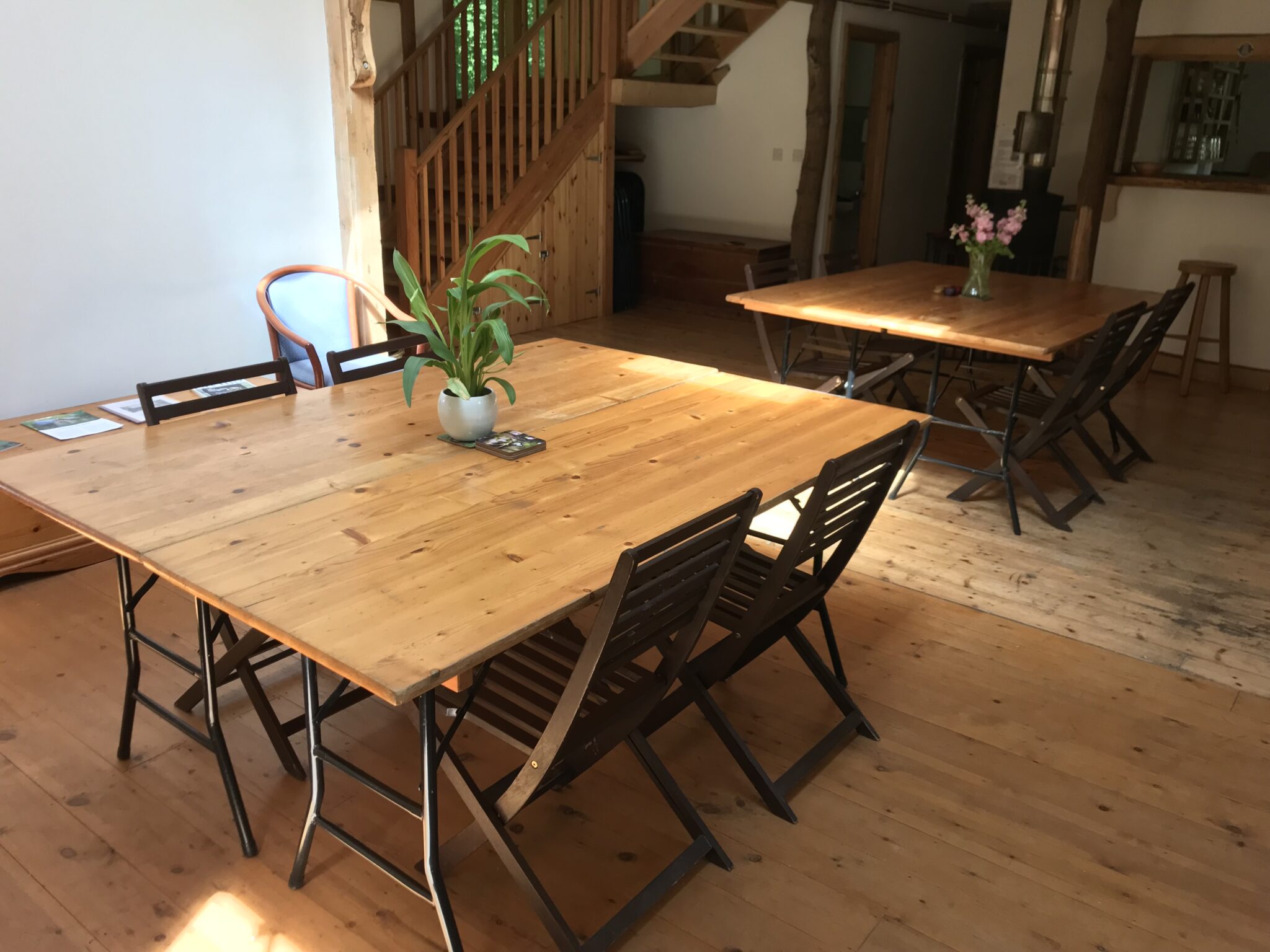 Please contact bookings@hazelhill.org.uk to check availability.