The Oak House and the Forest Ark are now available to two-household groups for long weekend breaks over the summer.
The mission of Hazel Hill Trust is to promote sustainability, resilience and wellbeing by bringing people into contact with nature at Hazel Hill Woods. As lockdown eases, what better way to nurture wellbeing than to invite households to spend time at the woods this summer?
Hazel Hill is a 70 acre woodland and nature sanctuary situated seven miles from Salisbury, Wiltshire. On site we have two, quirky, off-grid eco-buildings that are set up to accommodate groups of people who want to spend time in the woods.
In response to the Government's latest easing of lockdown restrictions, we are now able to make two of our buildings available to self-catering groups. Each building is available to a two-household group to book. The two buildings are the ten-person Oak House and the slightly more luxurious six-person Forest Ark. There's a mixture of shared and single sleeping arrangements to choose from which can be explained at booking. The buildings are spacious enough to permit groups to maintain one-metre indoor social distancing. Outside, there is plenty of space to spread out.
Read on for details, FAQs pictures of the buildings and booking conditions.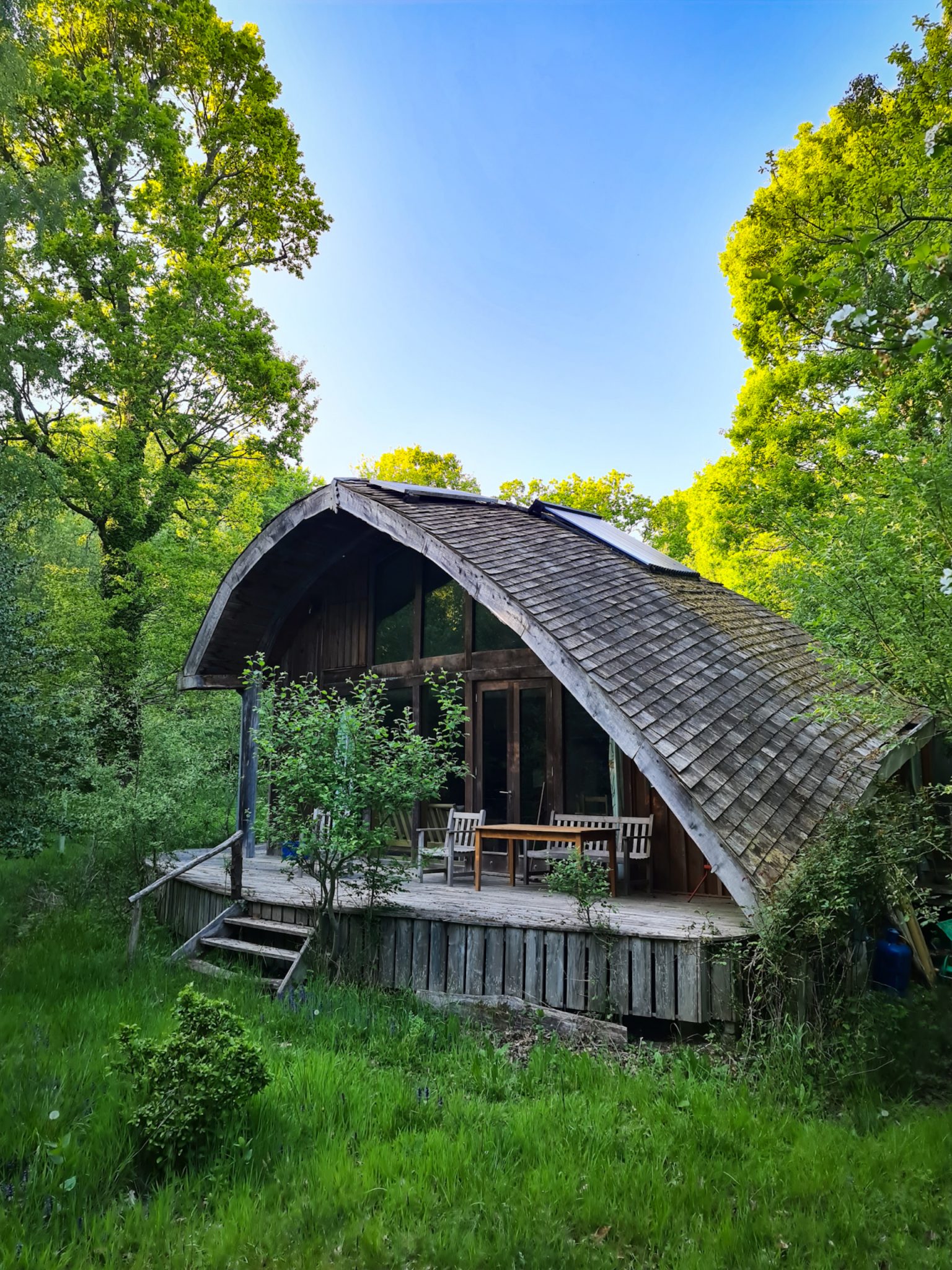 The details
We welcome guests to stay with us safely, following the Government's evolving guidance on social distancing and constraints on the gathering of people.
Available for self-catering bookings for long-weekends (Thursday 4:00/5:30pm to Sunday 4pm).
We are taking bookings for the period 23rd July to 30th August inclusive. Booking fee is £600 per building. This is a promo rate for this summer. It is also a flat rate – it stays the same whether you stay for one night or three.
We charge a £100 damage deposit, which we will return within two weeks of your stay.
The Oak House and Forest Ark are available for booking in parallel. This means that if you book one building, another group is likely to have booked the other.
The buildings are self-sufficient and are sufficiently far apart for privacy. There is lots of space outdoors to ensure you maintain your distance from the other group.
Flexible cancellations – please see terms and conditions.
Once you have filled in our booking form we will call you to give you payment details. We will provisionally book your booking, and confirm it when your payment has cleared.
The Oak House
The Oak House is the perfect off-grid venue for a large gathering of friends and family. It was originally conceived as a warm place in the woods to meet eat and to provide basic bunkhouse accommodation. Since then some of the sleeping accommodation has been upgraded. It has a large gathering room, a dining room, catering kitchen, two shower rooms and an indoor composting toilet. The accmodation comprises:
Group leader room: three single bunks and one double bed.
Second room: single bunk and one double bed.
Upstairs north: single foam matress
Upstairs south double foam matress
Upstairs snug: three single futons.
There are also some foam matresses that can be moved into the gathering room to accommodate more people in sleeping bags.
In the Oakhouse
Power comes from solar panels which are used to provide lighting. The power cannot be used for anything else.
There is mains water which you can drink.
Warm water is heated by wood burning stoves. You will be briefed on how to keep sufficient water warm for your use.
There are indoor composting toilets.
Cooking is on a stove powered by gas – there is also a gas oven and grill.
There is a fridge
There is no wifi
The Forest Ark
We built this building to showcase high-tech off-grid living. It is a lovingly crafted building that feels like it has grown out of the forest. In the summer the indoor spaced is bathed in green light from the forest. In the evenings the wood-burning stove keeps the place cosy. The building accommodates up to six people:
Two in the ensuite master bedroom
Two in a double room
Two on a double futon.
In the Forest Ark
Power comes from solar panels with a back-up diesel generator which provides some limited mains electricity – you can access this with usual plug sockets
Water in the taps comes from rainwater harvesting. It is safe for washing but not for drinking. Separeate drinking water is provided.
Warm water comes from solar thermal panels on the roof working in conjunction with a wood burning stove.
There are two internal composting toilets
Cooking is on a stove powered by gas – there is no oven.
There is a fridge.
There is no wifi.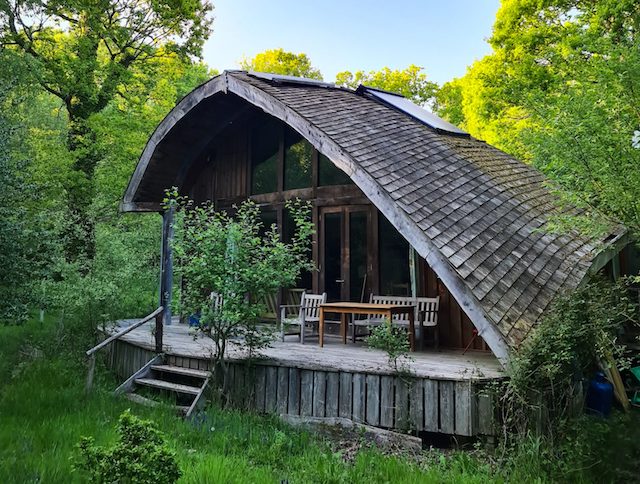 FAQs
What are you doing to keep surfaces virus free?
We have further enhanced our cleaning and disinfection protocols in line with the official public health guidance. Each building will be thoroughly cleaned and disinfected using eco-friendly Covid-19 secure cleaning products, with a particular focus on high-frequency touch points.
We have removed unnecessary items to reduce the number of objects that are touched and require cleaning.
Will our accommodation be cleaned mid-stay?
No, once the building has been cleaned it is your private space for the weekend. No one else will enter your building unless there is a mainte
Do I need to bring my own hand sanitiser?
There will be hand sanitiser stations in the entrance to the building and in the kitchen, and guests are welcome to bring their own extra hand sanitiser, biodegradable cleaning agents and PPE if they wish.
What do I do if I feel unwell?
If you feel unwell before you travel, or are self-isolating, please do not travel to the wood.
If you begin to feel unwell after you arrive, please inform the member of staff whose mobile number will be given to you at your induction.
Is check-in contact free?
Due to the unique nature of our venue, a socially distanced check-in and induction of approximately 1 hour is required.
What time can I check-in?
We have two check-in time slots available on a first come first served basis, 4:00pm or 5:30pm. As your check-in slot includes an induction to the off-grid systems and extra safety measures (lasting approximately 1 hour) please don't be late!
Can I have a fire at the wood?
To ensure everyone has the opportunity to enjoy the use of our magnificent campfire circle in the Heartwood (a shared resource), we ask you to negotiate with the other group which night you will use it. The Round House is also available for you to enjoy a fire.
What does off-grid mean?
At Hazel Hill we showcase ways to live more sustainably. As we've developed our buildings we have used them to show how different low-carbon systems can be used. Moving offgrid means looking for alternative ways to provide water, power and waste removal for our buildings.
Our power comes from a range of sources. All our buildings use solar panels. Some have back up power from biomass boilers and diesel generators.
Water is harder to provide offgrid. The Oak House has mains running water, which you can drink. The Forest Water harvests its own rainwater which runs through the taps. This water is not suitable for drinking but is fine for washing. We provide separate drinking water in this building.
Cooking power is provided by gas canisters.
Heat is provided by burning wood in stoves. We are self-sufficient for heat. Additional heat comes from solar themal panels on the roof.
All our toilets are composting toilets. In the Oakhouse we have a separate system for collecting wee that we filter in an external reed bed.
Is there mains electricity at the wood?
No, we are off-grid, so remember to bring a charged battery pack for your mobile phone!
Is there wifi at the wood?
No, there is a staff wifi connection but this is not available to visitors. Our aim is to provide a venue where you can disconnect from the busyness of the outside world.
What do I need to do when I check out?
On check out we will need you to:
strip your mattress protector and leave it in the designated bag for laundry – this reduces the risk to our housekeeping staff.
if you check-out before 4pm on Sunday, please let us know you have checked out – this can be by text or phone call.
What about rubbish?
In line with our vision of promoting sustainability, we require you to take away all your rubbish, recycling and food waste at the end of the stay. Please think carefully about what packaging you bring in as you will need to take it away with you. In addition, please bring a container with you in which you can take home your food waste for composting.
Booking Conditions
Upfront payment is required within 24 hours of invoicing to confirm booking.
Flat rate cost of £600 per building for the weekend.
We will charge a £100 breakage deposit on top of the booking fee. This will be refunded within two weeks of the stay if there are no breakages.
Guests to attend an induction at agreed check-in time, to include new health & safety measures.
Bookings DO NOT include bedding, towels or toiletries.
Hand sanitiser, eco-friendly hand wash, cleaning spray and paper towels will be provided.
Guests are asked to observe a curfew, with no noise which could be heard outside the wood between the hours of 10pm and 9am.
Guests stay within the boundaries of the wood (please do not trespass onto neighbouring private land).
Guests respect all parts of Hazel Hill Wood as a nature reserve, by avoiding littering, loud noise and ensuring that there is no damage to living trees or other plants.
Free cancellations until 24 hours before check-in. For cancellations within 24 hours of check-in, please choose from the following options:
Transfer your booking to a later date – subject to availability, we will move your booking to a later date with no admin fees or penalties.
Get a 50% refund – we will refund you 50% of your booking.
Cancellations after you have checked in are non-refundable.
Emergency/Covid-19 cancellations: If you are unable to proceed with your booking due to an emergency, ill health or UK government restrictions related to Covid-19 which prevent you from travelling to Hazel Hill Wood (such as travel bans or enforced self-isolation) you will be able to choose from one of the following options:
Transfer your booking to a later date – subject to availability, we will move your booking to a later date with no admin fees or penalties.
Request a full refund – please call us to discuss.